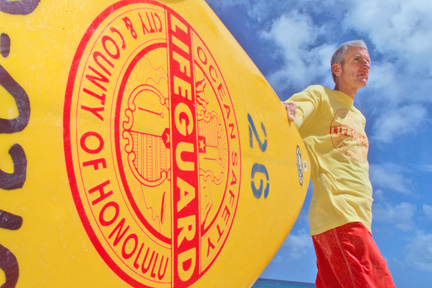 ( Mark Cunningham image courtesy of the Honolulu Star-Bulletin )
Aloha and welcome to this chapter of LEGENDARY SURFERS.
MARK CUNNINGHAM
is probably the greatest bodysurfer of the modern era. This chapter is dedicated to him and the stoke he has shown all of us over the decades.
MARK CUNNINGHAM ARTICLES
"The Encyclopedia of Surfing," by Matt Warshaw:
Mark Cunningham
, p. 142.
Mark Cunningham Wins 2007 Pipeline Bodysurfing Championship
By Bernie Baker, Senior Hawaii Correspondent, SURFER Magazine
Finding just one decent day at Pipeline for Quiksilver's Kaha Nalu Hanana `O Ehukai body surfing contest was a challenge – even guessing the right week was at best a 'blind shot'. So far, this spring's been as much a dribble-to-a-fizzle as the past winter months with bumpy swells, on-shore winds (Kona weather in April ?) or just NO swell at all. But Pipe lifeguard/contest director Rick Williams took an educated shot at just one day out of 14 and hit a bulls' eye.
A week earlier everyone was surfing waist-high beach break a hundred yards away. Then the north Pacific coughed up a freak low near Tokyo, cherry blossoms retreated and we woke up to 8-foot Pipeline with the odd 2nd-reefer capping over. It took less than 2 hours for Rick to call in the 48-man entry list/ judging panel/ a tabulator – oh yeah, and an air horn to start Heat #1.
The two rounds of competition were tallied in the Quikslver "Eddie" format (no one gets knocked out), linked with a mid-day rescue race 'challenge' where rescuers had to first sprint the beach, then swim out to the Pipe line-up, grab a 'victim' and tow/drag him to shore through the surf and THEN the two still had to race to a finish line, - still coupled together. And twenty minutes later you were back in the water competing in Round #2!
The day was brilliant (the trade winds even hinted at making a return) and now-retired lifeguard Mark Cunningham was on a tear from his first wave on. Listen, you gotta be lucky, pick the right wave and be in the right spot, but for Cunningham it was more a case of gills flopping open, eyes receding in and scales replacing skin. The Transformer just turned 51 and the fish DNA in him isn't going to dry up anytime soon. He leads the charge of former North Shore lifeguards and with this 2007 win – just one point ahead of active Pipe guard Abe Lerner 2nd, Todd Sells 3rd, Steven Hong 4th and Gavin Kennelly 5th, he's not swimming away anytime soon. AND If you think the event's just for the hard-core body whompers, remember harder-core surfers that included Brock Little, Mark Healey and Dave Wassel were already there at dawn, stretching for their heat before the contest had even started. The ocean's a passion and so is surfing, no matter what it takes to get you to the line-up and with the Kaha Nalu Hanana you have a salute to the lifeguards for all they do, year-in-year-out, keeping everyone as safe as is humanly possible.
This contest is also a chance to get as many surfers as time will allow into the water for a few hours of incredible skill, uncrowded fun and at the end of the day a lot of genuine back-slapping, hand shakes and a whole lot of smiling from a rather intense group that takes their water time just as serious as anyone witha board. – Bernie Baker
The Guardian: A lifeguard looks back on 29 years of surf, sand and saving lives"
By Tim Ryan, Honolulu Star-Bulletin, 5/1/2005
To many beach lovers, Mark Cunningham is living the life. This year alone he's been featured in singer/surfer
Jack Johnson
's surf film "A Broke Down Melody"; won the Mexico International Bodysurfing Competition at Puerto Escondido, known as "The Mexican Pipeline"; is co-writing a screenplay about bodysurfers; and is in talks with Quiksilver about various opportunities connected with the surf-wear company.
Most of his opportunities have come about while employed as a Honolulu City & County lifeguard and world-class body surfer who guarded the beach at Ehukai Beach Park for nearly two decades.
But Cunningham retired from 29 years of lifeguard duty on April 1.
"I have a whole other life ahead of me," says Cunningham, a fit 49-year-old at 6-foot-4 and 175 pounds.
It's a little before noon and Cunningham is hanging out at Johnson's house near Ehukai when he spots another buddy, singer
Jackson Browne
, in the adjoining cottage.
"Hey J.B., we surfing today or not?" Cunningham barks.
"Are there any waves?" the sleepy singer says, looking out at a flat North Shore.
"Couple feet at Lani's; enough to get the kinks out," Cunningham replies.
Browne first learned about Cunningham from Bruce Jenkins book "North Shore Chronicles."
"I had some friends who knew Mark and they introduced me," he said. "He's one of the most honest, real people I've ever met.
"We're very good friends in and out of the water. Mark reintroduced me to Oahu, the real Oahu, because I had been going straight to Kauai. I feel fortunate to know him."
Told later what Browne said, Cunningham blushes, and in an "aw shucks" manner whispers, "That's really nice of him."
Cunningham estimates he's saved "hundreds of people" while "losing about six" during his career, with 18 years spent at Ehukai, home to the Banzai Pipeline, one of the most dangerous surf spots in the world.
"There are a lot of lifeguards who have made a lot of rescues," he says. "Doesn't make any difference how many you save, you never forget the ones you don't."
"I was part of the community there. I saw kids grow up, learn to surf, check out the surf, graduate from high school, get married and divorced. A lifeguard gets to be a sort of gatekeeper, guardian, an overseer. It was the perfect fit for me."
IT WAS A cool November morning several years ago when Cunningham and water photographer extraordinaire Don King stopped to check out Pipeline surf.
The gentle southern breeze blew offshore, exaggerating the sounds of crashing surf. The two watermen's instincts told them that Pipeline was living up to its fearsome reputation.
The pair saw a dozen swell lines of double-overhead waves stacked to the horizon before exploding in shallow water on the coral reef. Then they saw a surfer take a horrendous wipeout.
"I remember moaning, 'Oh God!'" Cunningham says.
Seconds passed before the surfer's board rocketed to the surface through 10 feet of swirling whitewater and "tombstoned." That happens when the surfer's body remains pinned underwater, but his board pops through the surface standing straight up like a grave marker.
"Two more waves passed over and he still didn't come up," Cunningham said. "Don and I stripped to our trunks and bolted for the water."
Cunningham was the first to reach the man but had to use the leash to pull the unconscious surfer to the surface. The first thing he felt was "a limp foot."
"Don and I wrestled the rest of the body to the surface, put him on the board where I tried to do mouth to mouth," Cunningham said. "But there was this awful gurgling sound and my breath was blowing out the side of his neck."
The surfer's throat had been sliced by one of the board's fins. He died on the beach.
Mark Cunnigham's lifeguard partner at Ehukai was Rick Williams. Williams says, "You can count on Mark; he always cared for this beach and any person on it."
SITTING IN THE cluttered living room of his rented beach house a 10-minute drive from Pipeline, Cunningham wears baggy surf shorts and a black T-shirt with the silhouette of a bodysurfer, arms extended like wings, sliding left under a curl in the Metawai Islands. It's a shot of Cunningham for Johnson's and Chris Malloy's surf video "A Broke Down Melody."
"God, I'm so embarrassed wearing a T-shirt with me on it," Cunningham says, quickly removing it.
He grew up in Niu Valley and, like the other neighborhood kids, first learned to board surf. In his early teens he went through "a crazy growth spurt" and became "incredibly gangly, tall, lanky and uncoordinated."
"My board surfing was a comedy routine," he said. "I was swimming more than riding."
But Cunningham also didn't like being "on display."
"On a surfboard it's always like 'Hey look at me,' because you're standing up and I was so tall everyone always could see me," he said.
A lifeguard friend suggested Cunningham get a pair of fins and go to nearby Sandy Beach. After his first session, Cunningham was hooked.
"You're just so close to the wave and usually hidden by it, enveloped in a very personal, one-on-one experience," he says. "There's a sense of being a part of the ocean as opposed to being on top of it. I love touching the curl. It's like a fire hose spraying water against your chest ..."
Cunningham rarely does tricks when he bodysurfs, preferring "to make myself as much a part of the wave as possible, become synchronized."
He also took an early cue from Pipeline surfing master
Gerry Lopez
to ride waves as far as possible.
"I love long rides," he said. "I get a wave at Pipe and ride up on shore if I can.
"You watch board surfers and they kick out early with their chest in the air. Waves are precious resources and that wave will never be there again, so ride it for all it's worth. Waves are a terrible thing to waste."
IN THE RECENT second annual Puerto Escondido contest against some 30 competitors, Cunningham says "no waves were under four feet." In truth, the waves were so large that on finals day no one but Cunningham entered the water.
"I spanked some of those younger competitors," Cunningham says in a rare display of zeal. "But the surf was awesome. I got the longest rides of my life and I all I needed was Speedos and a pair of fins."
Cunningham is reluctant to talk about his contest dominance but records show that for some 15 years, he never lost when the North Shore was pumping. He was Hawaii's body surfing champion several times, and from 1976 -- the year he became a Hawaii lifeguard -- through the early '90s, he dominated Oahu's best bodysurfing spots: Point Panic, Makapuu, Sandy Beach and Pipeline.
"I really am a one-trick pony," Cunningham says. "I don't have a lot of other skills."
It's not unusual to find Cunningham in the Pipeline lineup competing with dozens of board surfers. While surfers may stay in one takeoff spot, Cunningham is perpetual motion, swimming on his back or breast stroking to a new spot, or even diving underwater to see how the reef is affecting the swell because "position is everything."
"The key element is the takeoff," he says. "Too soon and you may go straight to the bottom and get crushed; too late and you'll get pitched over the falls."
Mark Cunningham still spends lots of time at the ocean, mostly bodysurfing.
BODYSURFING WENT hand in hand with lifeguarding for Cunningham, who began his career in Santa Barbara while attending UCSB, before returning to Hawaii to work as a lifeguard. After brief stints at Sandy Beach and at Waimea Bay, Cunningham was assigned to Ehukai Beach Park.
"You mean they'll pay me to go to the beach?" Cunningham jokes. "I get to be outdoors and play in the ocean? Oh, I think I'll take that job."
But he worried about becoming a career lifeguard. A Punahou graduate, Cunningham had grown up believing he was supposed to become "a banker, attorney or politician wearing an inside-out aloha shirt down on Bishop Street." He obtained a real estate license but lasted less than a month working in an office.
"I was terrible and never sold an ounce of anything," Cunningham says. "I knew what I was supposed to be doing."
That decision contributed to several personal problems. He realized that he probably couldn't afford to buy a home here and he and his wife, whom he's been separated from for about a year, never had children.
"I'm not regretful about what I've done, but about some of the things I haven't done," he says. "The separation has been very difficult for me. I didn't see it coming, though I'm sure there were signs I ignored."
Did he spend too much time thinking about saving others and playing in the ocean?
"Probably; I let a lot of things out there get in the way of what's in here," he says touching his heart. "You know, I think I would have been a good dad."
For a moment, Cunningham's hawk-like eyes get misty, then he changes the subject.
"My passion for the ocean went hand in hand with my job," he said. "I'm lucky. Like
Buffett
says -- it's not bad to love your work."
CUNNINGHAM SPENT some of his time living within walking distance of his Ehukai lifeguard tower.
"I was part of the community there," he says. "I saw kids grow up, learn to surf, check out the surf, graduate from high school, get married and divorced.
"A lifeguard gets to be a sort of gatekeeper, guardian, an overseer. It was the perfect fit for me."
"Mark, day in and day out was a total professional," said Rick Williams, Cunningham's longtime lifeguard partner at Ehukai.
Like his fellow lifeguards, Cunningham knew how to spot potential rescue victims.
"Very pale, out of shape, and wearing their fins across the sand," Cunningham says. Williams says Cunningham was "one of the best" at talking people out of going into dangerous ocean conditions.
"He would just chat and point out all the dangers out and make them think they decided to stay on shore," Williams said.
Cunningham calls it reverse psychology.
"I may say I don't know how good a swimmer you are but the conditions look really dangerous for me and I live and work here, and I really don't want to get hurt going after you," he said. "Or I'll ask them if they've noticed that no one, even surfers, is in the water today. Why do you think that is?"
But when people still go in -- like some U.S. soldiers at Waimea Bay a few years ago -- and Cunningham had to make it through a pounding 6-foot shorebreak to rescue them, he's not above delivering a stern lecture.
"Why didn't you listen to me!" he told one soldier. "Now we're both going to get pounded getting in."
He's also heard his share of excuses from rescuees: cramps, not seeing warning signs, or not hearing lifeguards bellow warnings over bullhorns.
"Visitors who don't live by an ocean seem to have tunnel vision," Cunningham said. "It's a nice sunny day, it's warm, and they look at the shoreline and the water looks blue and inviting.
"They don't bother to look way offshore where waves are huge and no one is out."
EVEN CUNNINGHAM has had his share of close calls. He vividly recalls one day in 1986 when he got caught in the "Death Trench," a shallow sandbar area north of Pipeline.
"I just wanted a short swim," said Cunningham, who brought his rescue tube with him. "I hopped into the rip to see if I could make it past the shorebreak and I couldn't."
Currents and whitewater from Pipeline and Pupukea beach areas converged on him in a brown, frothy swirling soup. While floundering over the sandbar, a "huge" set of waves approached.
"I couldn't swim in or out so all I could do was take a deep breath and dive as deep as I could and get rolled," he said.
A trio of triple overhead waves swept over him, each one pinning him to the sandbar.
"I knew I had to get air so I had to climb the line of the rescue tube to the surface," Cunningham said. "When I popped through, another wave nailed me."
That was followed by more waves each one holding him underwater, until he washed ashore.
"I thought I was going to die; I'd never been so scared," he said. "You need those experiences to humble you. It makes you take a step back and fully realize you're not in control out here."
During a recent visit to Ehukai, Williams and other lifeguards greeted Cunningham like a member of the team.
"He's the best," Williams says. "You can count on Mark; he always cared for this beach and any person on it."
"Ninety-five percent of success is showing up," Cunningham says. "I went to work; I did my job."
Cunningham is standing on the empty beach in front of his house, staring at waves breaking over a shallow reef. Cunningham sees bodysurfing potential where others would see lots of nasty coral cuts.
"The beauty of the North Shore is overwhelming to me, so real, so honest," he says. "I feel whole, in tune here. I think that's OK."
Legendary Hawaiian Waterman Discusses HIs Career on the North Shore
- Interview by Chris Mauro, SURFER Magazine, November 2005.
In April of 2005, Mark Cunningham, 55, celebrated the end of his stellar 30-year Hawaiian lifeguard career, most of which was spent on the North Shore of Oahu with a very special breed of waterman. His list of former work colleagues is a veritable "who's who" of Hawaiian surfing lore: Buffalo Keaulana,
Eddie Aikau
, Darrick Doerner,
Rell Sunn
and Tiger Espere. And while Cunningham himself has achieved legendary status, he's done so in quite a different way. Aside from being the man who spent most of his days on the tower at Ehukai Beach Park, a.k.a. Pipeline, he's earned a solid reputation as the world's preeminent bodysurfer. His first North Shore Bodysurfing Championship came while he was in high school in 1974. His last one came in 2000, at the age of 44. In between he nabbed roughly 14 other titles, but even more impressive, thousands of friends and acquaintances from all over the world. In fact, he's become adoptive father to many North Shore surfers, including our Guest Editors Jack Johnson and Chris Malloy, who strongly suggested it was a good time to catch up with Mr. Cunningham. We couldn't agree more. — Chris Mauro
CM: So is it true you actually surf really well?
Ah, that's a stretch. But I really do enjoy surfing. I have what my friend Jackson Browne calls a "gentleman's thruster." But you'll rarely see me on the North Shore because I just don't want to make an ass of myself. I don't want to blow my cover. I'll go to less crowded spots when I go and do what I call my "standup comic routine."
CM: Where did the conscious decision to be primarily a bodysurfer originate?
Well, I started surfing a reef off Niu Valley where I grew up, but it was pre-leash. So to be a surfer back then you had to be a strong swimmer and you sort of had to know how to bodysurf so that you could ride waves in after your board. And sort of an older neighborhood guy, wonderful guy, Herbie Kaninson, he was a Niu Valley local out there, and he was lifeguarding at Sandy Beach, and he saw me swimming and bodysurfing after waves. And he goes, "Hey, you're doing that more than you're standing on the board. Why don't you try out these fins and come to the beach with me?" So I did and I just took a real liking to it. I was pretty tall and gangly and uncoordinated as an adolescent so I was falling off my boards, and this was shortboard revolution era—when designs were just really crude, and there was a lot of crap out there that just did not work. So maybe that's my excuse for not being such a good surfer. But my long, skinny, gangly body fit in at Sandy Beach and Makapuu real easy. I just really enjoyed it.
CM: When would you say your relationship with Pipeline really began?
When I first started going out there, I was actually on break from school at UC Santa Barbara, where I was playing water polo and on the swim team. I was in the best shape of my life. There I was, 20 years old and just fit as a fiddle, and stoked out of my mind. I could not swim enough. Mind you, this was before Boogie boards were invented. So imagine the Pipeline lineup without any sponges out there. And then with the advent of the leash and Boogie boards, and just the skill level of today's surfers is just mind-boggling how good those guys are out there. I mean, back in the day, early on, it was just like, "Wow! You can surf Pipeline?" And now everyone and his brother is out there. Back 30 years ago, there was still lots of room for improvement of what could be done.
CM: I think what's so impressive about your work out there is that you've shattered the average career arc of a Pipeline surfer.
Well yeah, that's because they're taking off at the peak and just getting the crap beat out of 'em [laughs]. I'm waiting on the shoulder picking and choosing. I mean, when I was younger and stronger and more flexible and would heal faster, you know, I took a handful of crazy drops. But bodysurfing is just such a different animal than surfing.
CM: But these days, and for a while now really, you play a patriarchal role over there on the North Shore. How did that evolve?
I feel real fortunate. There's an old saying by, I think by Woody Allen, that 90% of success is simply showing up. And that's all I did. I didn't set out to be a Pipeline guy, it just was the natural thing. It felt good. And I was just so fortunate because I knew how cool it was, and how beautiful it was, that I said, "I gotta live here." And so for many years I had little beach houses on either side of Ehukai Beach Park because I just wanted to see it morning, noon and night. I made it a point to live there. And I guess that's something that played a huge part.
CM: Do you still see people dedicating themselves to it like that?
A few. Today, in regards to really dedicating yourself and saying, "This is what I want," one classic example of that is Tamayo Perry. Local boy living there and he's just really said, "This is my course and I'm gonna be one of the guys at Pipeline." He's really, you know, dedicated himself to living there and being on it and checking on it morning, noon and night. Another guy who's dedication I'll never forget is Joey Buran. For years leading up to 1984 when he won the Masters, he was truly devoted to the place.
CM: Was there ever a time when you were over it?
Yeah, towards the end of my beach career in the Pipeline guard tower I was getting a little jaded. I was definitely getting a little cynical, a little over it. But as soon as I took my new job at the headquarters in Honolulu I was more of a dawn patrol weekend warrior and I just got fully stoked on it because, once again, it became more of a treat, you know, it wasn't a job anymore.
CM: That rekindled your fire.
It really did and now that I've moved back out there I'm just stoked as can be.
CM: Aside from the waves, what is it about the North Shore that makes it so alluring?
You know, so many people are like-minded out there, that's part of the community. They may not be ripping surfers, but you know there's a good chance maybe they're a shaper, or a glasser, or they're just stoked on the beauty of the North Shore. Whether it's spring, summer, or fall. What's funny is when I used to work, I'd sit at the tower for eight and-a-half hours and there'd be water patrol and beach patrols interspersed there. And my wife Linny and I had a house a couple hundred yards away, next door to the Johnsons' house there, and I'd go home and drop off, change out of my clothes, and sit out on the deck in the backyard and go, "F— -, look how cool this is!" Just being back, away from my office by 200 yards, gave me a whole new perspective on the thing and I'd just be enamored, hypnotized by how gorgeous and dynamic it is there.
CM: What's it like to have your backyard invaded by outsiders year after year?
Honestly, I just have nothing but admiration for surfers from around the world who save up and make that pilgrimage. I was so fortunate in that, you know, the North Shore being the Mecca that it is, that people from around the world come by and inevitably they stop by the Pipeline tower and go, "Is this Pipeline?" Because there are no signs -— not a damn sign on the entire North Shore to tell you where you are —- so they'd have to come to the lifeguard tower and we'd be talking story. And they come from around the world: Australians, Brazilians, Japanese, East Coast, West Coast, and a lot of them come back year after year. Personally, I just really admire them for saving the money and putting it aside and doing a little splurge there for a couple of weeks or a couple of months. That's really admirable.
CM: It must have been fun watching kids playing in the shorebreak turn into full-on gladiators.
Oh yeah. I mean, one of my favorite memories is actually of the Johnson family. It was this typical spring day at Pupukea, which was the Johnsons' backyard before they moved down to Pipeline. Anyway, I'm in the tower, and I look over, and there's dad, Jeff Johnson, and three sons, all out surfing together. Pete, the middle one, was paddling back out watching his old man grab the first wave of this beautiful little set. Trent, the eldest son, was on the next, and then little menehune Jack was dropping in on the shoulder as the rest of them were paddling back out, hooting and hollering for him to go. I just remember watching them that day, thinking, "Man, how cool is that?" Even mom joined them. That's when it hits you that this really is a neighborhood, not just an amusement park. These people are connected. This is their backyard.
CM: How will you stay in shape now that you're officially retiring as a lifeguard?
Just continue playing, you know—paddleboarding, snorkeling, bodysurfing, boardsurfing. I really love paddleboarding, that's one thing that has really kept me in the game for a lot of years. I just did the race to Molokai with a partner, so I went halfway. But what's funny is I'm not a real disciplined guy.
CM: Are you sure?
I'm positive, believe me. I need events, whether it's a rough water swim or a paddleboard race, to sort of train for and keep me motivated. The kids and chicks are starting to beat me more and more, and I don't want to make a total ass of myself. If I didn't have competitions to prepare for, I'm afraid what kind of shape I'd let myself get into.
CM: As a Hawaiian lifeguard, do you get the sense that you're part of a pretty heavy fraternity of legends?
It's something I'm really proud of. Absolutely. To think that when I first came into the department
Butch Van Artsdalen
was with us. Tiger Espere, who recently passed away, was a lifeguard at one time.
Eddie Aikau
of course was a lifeguard with us out at the North Shore. Brian and Buffalo Keaulana were lifeguards; former world surfing champion Jimmy Blears was a Hawaiian lifeguard; tow-in pioneer Darrick Doerner was a lifeguard with us;
Rell Sunn
was a lifeguard with us. God, I'm just so stoked to be part of that crew. That's really been the best part of my career.
CM: Do you consider yourself a "waterman?"
Funny you should ask. I'll tell you this, after being on a boat during that paddle race I know I'm not a seaman, I'm not a sailor. That's not a real good thing for a macho lifeguard to 'fess up to. But I get seasick just looking at boats. The classic saying about that is, "First you're afraid you're gonna die, and then you're afraid you won't." Seasickness, motion sickness, is just the worst ever.
CM: You're not used to being above the water I guess.
That's right. I'm rarely high and dry.
CM: By the way, one thing that's sort of falling under the lifeguards' jurisdiction is the regulation of tow-in surfers. Crowds and such have gotten pretty out of hand at places like Jaws. How likely is it that local governments will just go, "All right, you guys are done, no more," especially if something happens?
Oh yeah, it's probably not if, it's when. That fatal accident will happen, whether it's pilot error or someone gets towed into something way too big. And isn't that just kind of funny, or a shame... it just seems like government regulation so goes against my grain of surfing, that I was brought up to. Wave-riding was to get away from rules and regs. It's supposed to be fun.
CM: How do you keep it fun?
Just keeping it in perspective really. We are so blessed and so lucky to be surfers. I mean, to have the luxury of even thinking of not having to work or not having to struggle to get food or put a roof over your head. I mean, you look at the world news and most people are so struggling in the world, for us to have the luxury and vanity to go dabble in the ocean is just unbelievable. I can't describe the sense of gratitude I have at this point in my life for just my health, my fitness, all my friends.
CM: By doing that, is it a little easier to let a wave go by? Y'know, give it away?
It does, yeah. And that's one thing, I've had my share of waves. It's like the buffet line: I just keep going back for more. So it's real easy for me to pass on a session or let someone else have a wave, because I always know there's gonna be more.
CM: With the renaissance period we're living in right now in terms of design and experimentation, is interest in bodysurfing going up again?
I think so. I can see where people are going, "Well, let's check out bodysurfing too." And I just think it's cool, it's just another way for people to experience waves and the ocean. And I think it will give them a whole new appreciation for their boardsurfing. They may not take it so much for granted, or it'll give them another way to get in the water, and sort of find a new lineup, find a different way to ride waves. I think it's neat that you're seeing bodysurfing segments in movies like Jack's and Chris's.
CM: Needless to say you'd recommend it be a part of every surfer's repertoire?
Oh yeah, definitely. It breaks up the monotony, it's another form of wave-riding, it keeps you fit, and who knows, it just could save your ass. But most important, I think, is it just gives you a new appreciation and a new style, you know.
CM: I guess the best part too is you don't really need that great of a wave.
Sometimes I don't even need waves. I just need to go swimming in the ocean. And I wish that was something more people would get hip to. You don't need fins, you don't even need a board, just strip down to your trunks or wetsuit and dive into a shorebreak or go swim in the ocean, look at it from a different vantage point, as opposed to jockeying to the prime spot in the lineup and putting out the vibe like, "Next one is mine." The ride itself is only a tiny fraction of it all.
... The actual act of riding a wave is like 5% of our experience. Getting to the beach park or the bluff and checking it out, going down the trail, walking across the beach, you know, sort of posting up, doing your stretches, putting on your sunscreen, paddling out. Without all that we'd be missing something very special. I dig the whole scene at the beach and in the shoreline just diving under waves and talking to friends or looking back at the beach and your lineups and landmarks of the neighborhood back there. It's just the whole dance.